Enable Aging In Place
Introducing POM, the revolutionary health monitoring device designed to offer reassurance and peace of mind to families worldwide. Our device is committed to prioritizing your loved one's health, ensuring that you feel connected, and are empowered to provide the necessary care and attention to your loved ones, no matter where they are.
Care made
simple.
Tellus provides actionable health information and real time alerts, improving quality of care and operational efficiency. All you have to do is plug it in.
Privacy First
Tellus does not use cameras of any sort, preserving your privacy and dignity in your home, where it matters most.
Real-Time
No delays on information. When something important happens, we tell you, right when you need to know.
Wearable Free
Tellus utilizes advanced sensor technology to monitor your health, completely wirelessly and no wearables required.
Understand residents
sleep behaviors
Ensure your residents have the best possible sleep with the Tellus SpotlightTM report. Every resident is different, and we help you understand baseline health data and alert you if something looks different. We empower you to make the right decisions for your residents, during emergencies or to prevent one.
Operational intelligence
informed by life rhythms
See the current state of all your residents in real-time, learn their sleeping patterns, bathroom patterns and how they spend their time in their rooms so that you can understand how your interventions positively affect the people you care for.
Identify and correct
risky behaviors
Respond to incidents when they happen and change residents behaviors to ensure they live safer and healthier lives. Care facilities using Tellus have reduced accidents and prevented falls using Tellus. Enable your workforce to feel less stressed so they can focus on providing high quality care.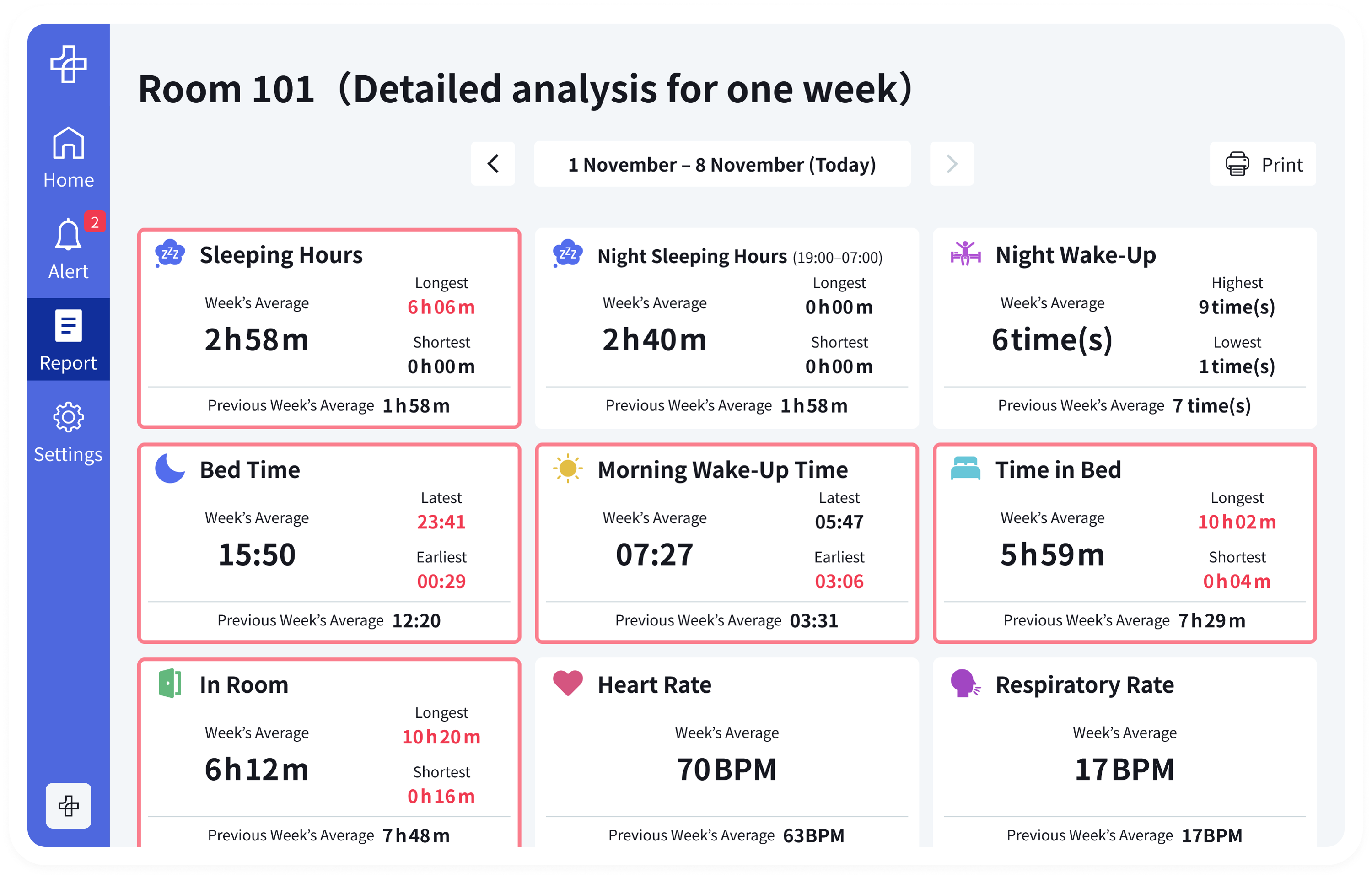 "By understanding their sleeping pattern during the day, we could provide care at an appropriate time to improve their sleep quality or have them visit the nearby day service instead of responding with medication."
"We see the shortage of workers as a serious and recurring issue in the caregiving industry and we believe that Tellus' solutions can be used to reduce the workload of staff in a short period of time."
Frequently Asked Questions
If you have a question that isn't answered here, please contact us!
What kind of data does Tellus collect on the platform?
We emphasize on helping residents understand their daily rhythms, we are taking an approach to prevent falls with our vitals, sleep patterns, awake hours and in-and-out of room data. Currently our platform focuses on preventing falls. The data we provide can improve safety and quality of life for residents.
Where does Tellus store its data?
Tellus utilizes the latest cloud technology with high security and is stored on servers located in Japan.
Does radar technology have any effect on the human body?
Is it possible for Tellus to integrate with other systems?
We are currently considering the possibilities.
Linkage with nursing care record software and IoT devices is under consideration.
Before using the technology, what are some specifications you can share?
An Internet connection is required, either WiFi or SIM connection is available for our devices. We recommend using a SIM if your facility have no WiFi access. The device requires a constant power supply from an electrical outlet and requires no batteries.
At Tellus we believe caregivers are a heroes,
and our goal is to improve your day-to-day and empower you to be your best.
Are you interested in becoming part of our caregiver community or bringing Tellus to your facility?
Contact us to learn more about the product, discuss your facility goals with our product expert, or receive pricing details based on your needs.